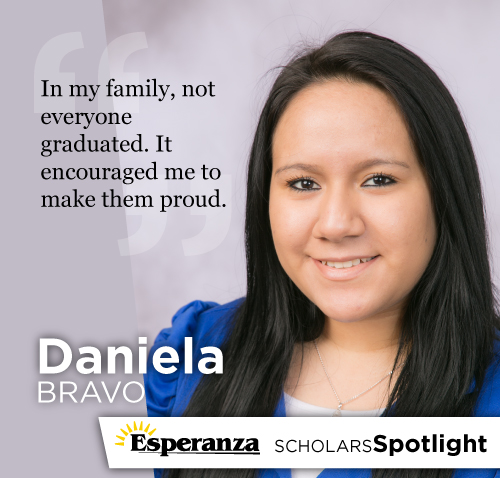 By: Noha Bechara
"Educationally, I would like to gain knowledge as much as possible, because all that knowledge that I'm going to gain in college, and all the information that my brain will take in and learn, is what I'm going to be carrying with me for the rest of my life,"
It was just four years ago that Daniela Bravo left her family and moved to the United States in order to get an education.
"Being a Hispanic with the opportunity of being in this country legal, and have an education every single day, to me is a blessing," says Bravo. "In my family, not everyone graduated. It encouraged me to make them proud to be that generation that graduated from high school and college and went further in their education."
Bravo, a recent graduate of Lincoln West high school, will be attending Baldwin Wallace University in the fall to study Criminal Justice.
"Educationally, I would like to gain knowledge as much as possible, because all that knowledge that I'm going to gain in college, and all the information that my brain will take in and learn, is what I'm going to be carrying with me for the rest of my life," she explains.
RELATED: Support Daniela and others like her by joining us for the Fiesta of Hope Schoalrship Luncheon
Bravo's determination and eagerness to get an education led her to Esperanza, where she was able to participate in multiple programs to encourage her success as a Hispanic student. These programs include the Hispanic Youth Leadership Program (HYLP) and Esperanza's Latina Leadership Alliance (ELLA).
"The leadership program helped me grow as a person and grow in confidence. I started developing leadership skills which will help me a lot in the future and in college," says Bravo of the program.
Her Esperanza mentor, Yasin, was also a large influence in her life.
"She was really nice and helped me a lot and always encouraged me to pursue my dreams and goals. She told me to apply to college and has been there for me through the way."
When thinking about her immense success in the United States in such a short amount of time, Bravo stated that she was proud that all the sacrifices she made were worth it. She is especially proud, as a Hispanic student, to be an example for others.
"Every single day I take as a new challenge and opportunity that God gave me to get as many chances as I can in order to improve my life," she begins, "I will proudly represent my Hispanics and make a change, and will continue to make everyone proud and not waste my chances."
Fiesta of Hope
Annual Scholarship Luncheon Celebrating Hispanic Academic Achievement
Our 2015 Fiesta of Hope will be held on Friday, June 19 at the Cleveland Renaissance where we will celebrate the community contributions of Jose C. Feliciano. Purchase tickets.
All forms can be submitted to susan@esperanzainc.org

755 Total Views
1 Views Today
Comments
comments
Powered by Facebook Comments