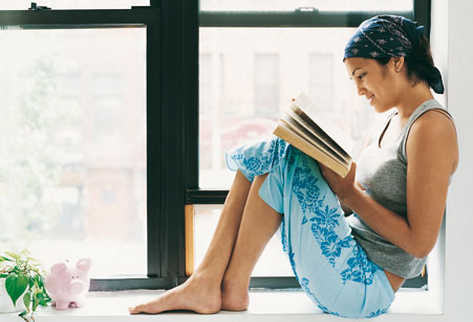 Cleveland readers: your next favorite author could be your next door neighbor. Bibliophiles now have a new resource for finding local books and authors in the form of an ongoing initiative called Hometown Reads, organized by nearby book marketing company Weaving Influence.
Last month, Weaving Influence invited Cleveland-area authors with published books to join the network of Hometown Reads authors. Those who did are now featured prominently on the program's main website. Weaving Influence experts are also providing each author with assistance for effectively marketing their work.
With up to one million books published in the U.S. each year, it can be difficult for an author — especially one who is self-published — to cut through the noise and reach readers, even those living just a few miles away.
"Having a site for and about local authors is long overdue," said Brian Sooy, who wrote "Raise Your Voice," one of the titles on Hometown Reads. "It's incredibly important for the readers of Cleveland and Northeast Ohio to be familiar with the diversity and talent of regional authors and their work."
Already, the Hometown Reads website showcases a local work to suit every reader's taste — from leadership and self-help, to a dystopian thriller, to a book about golf etiquette. The full list of Cleveland Hometown Reads as of April 11 included:
"Every Single Second" by Tricia Springstubb of Cleveland, Ohio
"Elusive Secrets: Discovering the Power of Self-Honesty" by James Patrick McDonald of Cleveland, Ohio
"Become a Franchise Owner!: The Start-Up Guide to Lowering Risk, Making Money, and Owning What You Do" by Joel Libava of Amherst, Ohio
"The Buried Book" by D.M. Pulley of Cleveland, Ohio
"The Golf Rules Etiquette " by Richard Todd of Lambertville, Mich.
"Raise Your Voice" by Brian Sooy of Elyria, Ohio
"Therapeutic Storytelling for Adolescents and Young Adults" by Johanna Slivinske of Cortland, Ohio
"Rainbow's Shadow and the Tablets of Fate" by John Cicero of Solon, Ohio
"Modern Privacy" by Mike Haszto of North Ridgeville, Ohio
"Chasing Liberty" by Theresa Linden of Elyria, Ohio
There will be an open house luncheon on Friday, April 15 for all Cleveland authors who have registered for Hometown Reads. Authors will have the opportunity to meet one another, share best practices, and brainstorm ideas for the future.
Cleveland authors can still sign up to participate in the program at www.join.hometownreads.com. Hometown Reads authors will appear at local book events in the coming months. The program has already launched in Toledo and Ann Arbor, and will also launch in Columbus, Cincinnati, Grand Rapids and Indianapolis later this spring and beyond the Midwest very soon.
Weaving Influence, a boutique digital and public relations firm that specializes in serving business book authors, has launched nearly 70 books since its inception in 2012. Find more at www.weavinginfluence.com. Follow Hometown Reads on Twitter and Facebook for more news.
852 Total Views
2 Views Today
Comments
comments
Powered by Facebook Comments