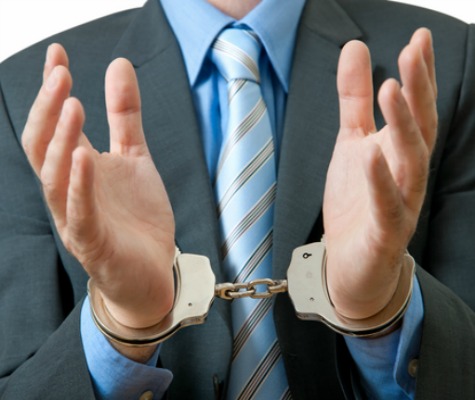 The Ohio Department of Transportation (ODOT) and the Ohio Turnpike and Infrastructure Commission (Turnpike) are conducting disparity studies that will assist with administration of programs for socially and economically disadvantaged, minority-owned, and woman-owned businesses that encourage their participation in ODOT and Turnpike contract opportunities.
The studies include analyses of contractors' and vendors' experiences with ODOT's implementation of its Disadvantaged Business Enterprise (DBE) Program for contracts funded by the Federal Highway Administration; the Encouraging Diversity, Growth & Equity (EDGE) Program; and the Turnpike's implementation of its Minority Business Enterprise and Female Business Enterprise Program. The studies will also examine any barriers to doing business in Ohio and with state and local government agencies.
As we begin the studies, ODOT and the Turnpike invite you to participate in public hearings and tell us about your experiences doing business in Ohio. At the hearings, the disparity study consultants will also share information about the project approach and provide opportunities for the contracting community to engage directly with the project team. The insights that you provide will be integrated into the project team's analyses of marketplace conditions.
Information we are seeking includes:
¾ Perceptions about and experiences with doing business in the local marketplace and working with ODOT and/or with the Turnpike;
¾ Whether businesses encounter barriers or difficulties when bidding as prime contractors, subcontractors, or suppliers;
¾ The availability of minority‐ and woman‐owned businesses in the relevant geographic market area(s) for ODOT and Turnpike contracts; and
¾ Whether business owners believe they have been treated fairly based on their race/ethnicity or gender.
A number of public hearings will be conducted throughout the state. Please respond to this email letting us know if you plan to attend.
The next two hearings are scheduled for:
WEDNESDAY, MAY 13, 2015, 5:30 PM – 7:30 PM
City of Maumee Office
400 Conant Street
Maumee, OH 43537
map and directions
THURSDAY, MAY 14, 2015, 5:30 PM – 7:30 PM
Eastgate Regional Council of Governments
100 E Federal Street, Suite 1000
Youngstown, OH 44503
map and directions
ODOT and the Turnpike will provide additional public hearing dates and locations as they are scheduled.
If you are unable to attend a public hearing, we are still very interested in hearing about your experiences working in Ohio and working with ODOT and the Turnpike. Please visit our disparity study website at www.dot.state.oh.us/groups/DisparityStudies/ to learn about other ways to submit testimony. Attached is the written testimony document you may email to ohio.mwbe@bbcresearch.com.
If you have any questions please contact:
Deborah Green
Acting Administrator, Office of Small & Disadvantaged Business Enterprise
Ohio Department of Transportation
email: deborah.green@dot.state.oh.us
ph: (216) 584-2003
Tommie Jo Marsilio
Director, Contract Administration and Compliance
Ohio Turnpike and Infrastructure Commission
email: tommiejo.marsilio@ohioturnpike.org
ph: (440) 234-2081, ext. 1041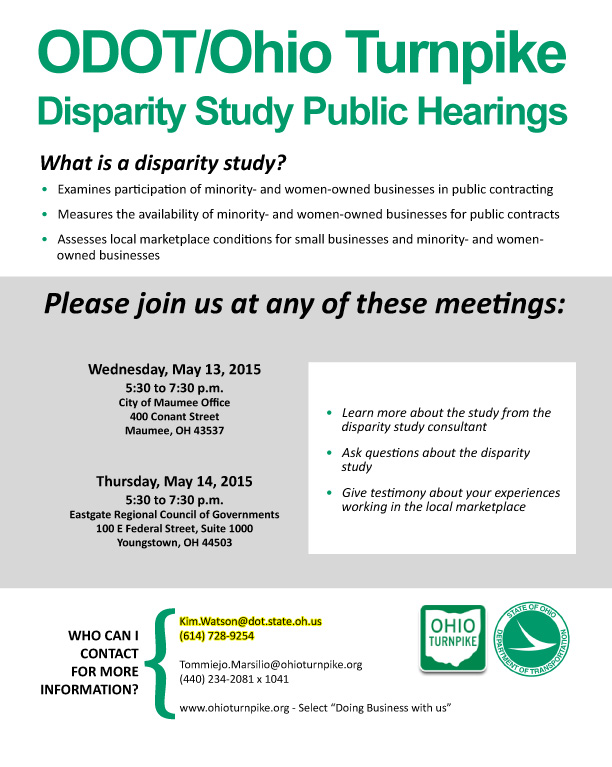 1070 Total Views
1 Views Today
Comments
comments
Powered by Facebook Comments