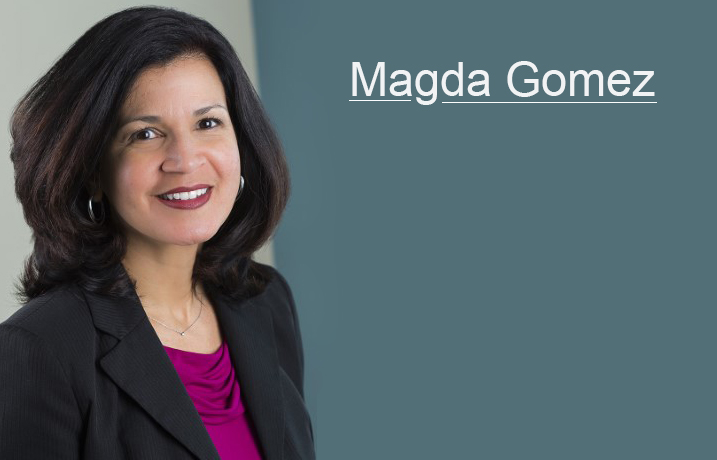 Cleveland, Ohio – The Hispanic Roundtable is proud to announce the recent appointment of Magda Gómez as the new Director of Diversity & Inclusion for Cuyahoga Community College (Tri-C®).
Gómez will focus on multiple initiatives regarding inclusivity, diversity training and awareness of national diversity-related issues with a special focus on valuing employees by encouraging mutual respect and honoring the unique perspectives each person brings to the table, regardless of age, gender or race.
Gómez joined the Tri-C family in September of 2012 as Manager of Enrollment Communications, a role in which she managed marketing projects for College Pathway Programs, the Office of Diversity & Inclusion, and Hispanic and minority community media. Gómez was recognized earlier this year in Crain's Who to Watch: Marketing and Creativity.
According to Gómez, "Working at Tri-C has been a great honor and privilege; an organization that not only values diversity, equity and inclusion for all of its students, faculty and staff, but works to ensure our community is provided with the highest of standards in affordable quality education and preparation to enter the workforce."
She is currently working on completing the National Community College Hispanic Council (NCCHC) Leadership Fellows Program.
Gómez also serves on the Hispanic Roundtable as president of Hispanic Community Programs. She is a longtime supporter and advocate for Hispanic and minority issues and has worked on the planning committee for Convención Hispana, an event which occurs every three years in Cleveland.
In her new role as director of Diversity & Inclusion for Tri-C, Gómez will continue to build strong partnerships in the community, leveraging her work at the College with her community work.
"Magda Gómez as a person and her singular accomplishments are a source of inspiration and pride to the entirety of the Hispanic community," said Jose C. Feliciano, chairman of the Hispanic Roundtable. "Cuyahoga Community College, the Hispanic Roundtable, and the entirety of the Hispanic community are indeed fortunate to be beneficiaries of her leadership gifts. We congratulate Magda and her family."
2498 Total Views
1 Views Today
Comments
comments
Powered by Facebook Comments