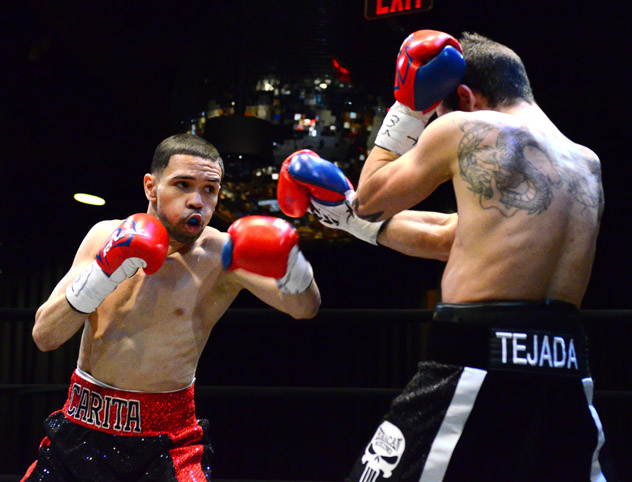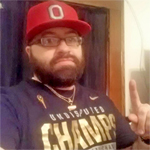 "Somebody's oh has got to go" is a familiar phrase in boxing when two undefeated fighters are matched up with one another and that will be the saying this Saturday, June 20th as Cleveland bantamweight prospect Antonio "Carita" Nieves (12-0, 6 KO's) returns to the ring against St Louis, Mo's Stephon Young (13-0, 5 KO's).
The fight will take place at a venue all too familiar to Cleveland sports fans, the Oracle Arena in Oakland, Ca, and will be the co-featured bout on the Andre Ward versus Paul Smith undercard that's nationally televised on BET.
This is a quick turnaround for the five-time Cleveland Golden Gloves Champion Nieves as he is just two weeks off his explosive first round KO of Gabor Molnar at the Presque Isle Downs Casino in Erie, Pa on June 6th.
Opportunities like this one don't come around often so when Nieves was given the opportunity to fight on national television, the answer was easy.
"When I first found out that I was going to be on national TV I was excited that the world could finally see my skills and hard work," Nieves said. "I think that having a fight just a couple weeks ago does help because I'm in tip-top shape. We got the call and got back to work to prepare for this great opportunity."
While this isn't the first time that Nieves has fought on the national stage, as he fought in numerous national amateur tournaments, this is his first fight on national TV.
Nieves, trained by Joe Delguyd and Francis Figueroa out of Old School Boxing Club at the Strongstyle mixed martial arts and fitness center in Independence, will be without one of his longtime trainers for this fight. Delguyd will be unable to attend as he is recovering from a knee replacement. That, however, didn't stop him from mentioning what this fight means to both fighters.
"The guy that wins this fight, will be going up to that next level," Delguyd explained.
Like Nieves, Young also was an amateur standout and turned professional after a reported amateur record of 86-13.
The undefeated Young turned pro in 2011 and is coming off a second round TKO over Jesus Gonzalez on March 27th in St Louis, Mo.
Due to Young's background, Nieves knows his opponent extremely well and is familiar with what he will be bringing into this matchup.
"We fought in the same tournaments as amateurs but he always fought in the weight class under me," said Nieves.
"Stephon is a solid fighter," Delguyd added. "He's a fast lefty with skills."
Nieves, who is right handed, has had no problems against southpaws as he's already had to deal with three of them since turning pro with no problems.
Since Nieves was already in fighting shape when this fight came about, he's been using this training camp to get in extra sparring with left handers in the gym. There's also little doubt that Nieves picked up some things after his last fight.
"I've been training fighters for over 20 years and the thing about Nieves is he improves after every fight," said Delguyd. "I can honestly say that from the time he first started boxing, he's the most improved fighter in the history of the Old School Boxing program."
The main event of the evening will feature former Olympic Gold Medalist and current WBA super middleweight champion Andre Ward, who many believe to be the second best pound for pound boxer in the world, behind Floyd Mayweather. Ward is promoted by Jay Z's Roc Nation Sports and Nieves knows what kind of opportunity this fight presents.
"Opening for Andre Ward is crazy," said Nieves. "I would have never thought that I would have this opportunity. It's a blessing."
Nieves doesn't have a promoter but that could very well change with another dynamic performance this Saturday night.
"I believe I am auditioning, but that's not on my mind," Nieves said. "All I'm focused on is getting a great victory over another undefeated prospect and staying undefeated. I'm ready and focused. Don't miss it!"
"Nieves can do everything," Delguyd added. "He's exciting and fun to watch."
Be sure to tune into BET at 10PM ET to see Nieves make his national TV debut.
1618 Total Views
1 Views Today
Comments
comments
Powered by Facebook Comments