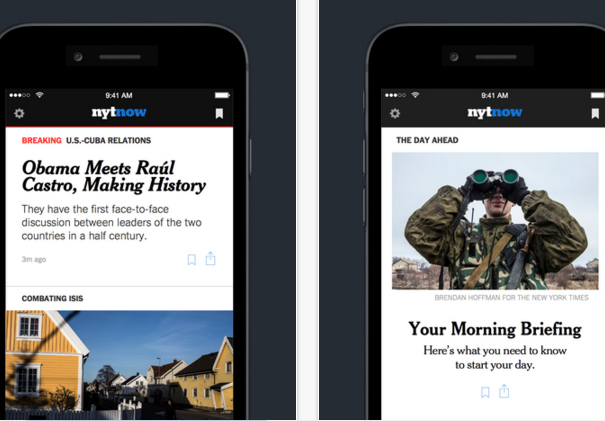 Todos los proyectos no siempre salen bien. Unas veces se gana y otras se pierde. Y eso es lo que le ha ocurrido a uno de los grandes medios de comunicación de los Estados Unidos.
El periodico liberal, The New York Times decidió lanzar en 2014 una aplicación bautizada como NYT Now que estaba dirigida a los jóvenes que usan, sobre todo, el teléfono móvil para estar informados de lo que acontece cada día. Algunos incluso no se despegan ni un segundo de su smartphone.
Así, esta app proporcionaba a este perfil de usuarios una lista de historias relevantes por un coste inferior a lo que cuesta una suscripción a la versión digital del The New York Times.
Sin embargo, el diario ha anunciado esta semana que NYT Now ya no se podrá descargar a partir del 29 de agosto. "NYT Now fue uno de los primeros intentos porThe Times para aumentar su atractivo de cara a los usuarios móviles, ya que buscó nuevas fuentes de ingresos que pudieran compensar caídas en la publicidad impresa y en la circulación. The Times esperaba atraer a un público más amplio, que de otro modo no podría suscribirse. El precio de suscripción de NYT Now era de $ 8 dólares al mes, más o menos la mitad del precio de la suscripción digital más barata", señala el diario en su portal.
No obstante, tal y como confiesa la conocida y prestigiosa publicación, esta aplicación no llegó nunca a despegar como se esperaba. Por ello, ha sido ahora cuando la compañía ha decidido poner fin a este servicio.
Un cese "impulsado en parte por un cambio en la manera en la que la compañía piensa ampliar su audiencia", subraya el vicepresidente ejecutivo de productos y tecnología del diario, Kinsey Wilson.
Además, en este caso, los números daban buena cuenta de que NYT Now iba de capa caída. Cuando esta app estuvo en su mejor momento fue en mayo de 2015 y tenía 334,000 usuarios únicos totales, pero ya en los últimos meses la media había bajado hasta los 257,000 usuarios.
900 Total Views
3 Views Today
Comments
comments
Powered by Facebook Comments