Award winning fashion designer Jonathan Anderson will showcase his talents for a great cause, to raise funds for the Esperanza Scholarship fund. Jonathan Anderson is the head designer of Anderson Couture. His work has been showcased in New York City fashion runways, theatrical and movie productions throughout the country. He has dressed several celebrities including: Latin Singer, Judy Torres; Actress, Jennifer Garner; fashion model, Michelle Hilton; Author, Cheryl Waiter; Z Ohio Latina, Tatiana Figueroa; Miss USA Galaxy, Raven Reed; fashion Model, Alison Nottingham, Angelica Campos and Browns Football Player, Craig Robertson among others.
The event will be hosted by Fox 8 Weather Meteorologist Angelica Campos and Richard "Zoom Scott from Fox 8. Local media, sports personalities and community leaders will participate in the celebrity runway. Celebrities who are scheduled to appear to support this event are: Fox 8's Melissa Reid, Enrique Correra and Melissa Mack. 19 Action News weekend anchor Lydia Esparra. Also, Brian Cummins; Stephanie Miranda, Miss Ohio Latina; Neiiza, Miss Puerto Rico Image; Ruby, Miss Cleveland Ohio Latina; Judy Torres, Latin Singer; Katherine Miracle, Author; Alison Nottingham, Model; Raven Reed, Miss U.S. Galaxy; Don DiFranco; Leah Haslage. This celebrity fashion show is in collaboration with Cleveland Television 20 and Mrs. Lucy Torres, Hispanic Liaison for the City of Cleveland.
This year's recipient is Esperanza, Inc. The mission of Esperanza, Inc. is to improve the academic achievements of Hispanics in Greater Cleveland, by supporting students to graduate high school and promoting post-secondary education attainments. The Benefit Fashion Show will help showcase Esperanza's model of academic and community excellence. The proceeds from the benefit fashion show will help provide funds for their scholarship and assistance program. This organization is very dear to Jonathan's heart being an Esperanza alum, he has witnessed first-hand the commitment and dedication of their staff to the students that participate in the program. During his senior year of high school, he escaped the abuse of a drug addicted father, he became a runaway. It was through Esperanza's staff that he was able to find: shelter, job, mentoring and support to stay in school, assistance in applying for college and scholarships to fund his education. As you can imagine he is not but one of many success stories of Esperanza, Inc. involvement in the Cleveland community. And today, he wants to give back by raising money for their scholarship fund.
Esperanza, Inc. (meaning "hope"), began in the early 1980's as a community project to improve the educational opportunities for Hispanics by motivating and recognizing academic achievement through scholarships. As Ohio's only nonprofit organization dedicated to the promotion and advancement of Hispanic education achievement, its founders recognized the need to expand the services by adding programs to address more of the educational needs of the community. Esperanza awarded its first college scholarship in 1983. Since awarding just one college scholarship that first year, Esperanza has grown steadily to where it is now able to award over 80 college scholarships every year through the support of corporations, foundations, individual donors and partnership such as this one. Please visit their website: www.Esperanzainc.org 
Friday, March 21, 2014
Doors open 6:00pm Live Entertainment 7:00pm Benefit Fashion Show 8:00pm
Cleveland City Hall Rotunda 601 Lakeside Ave Cleveland, Ohio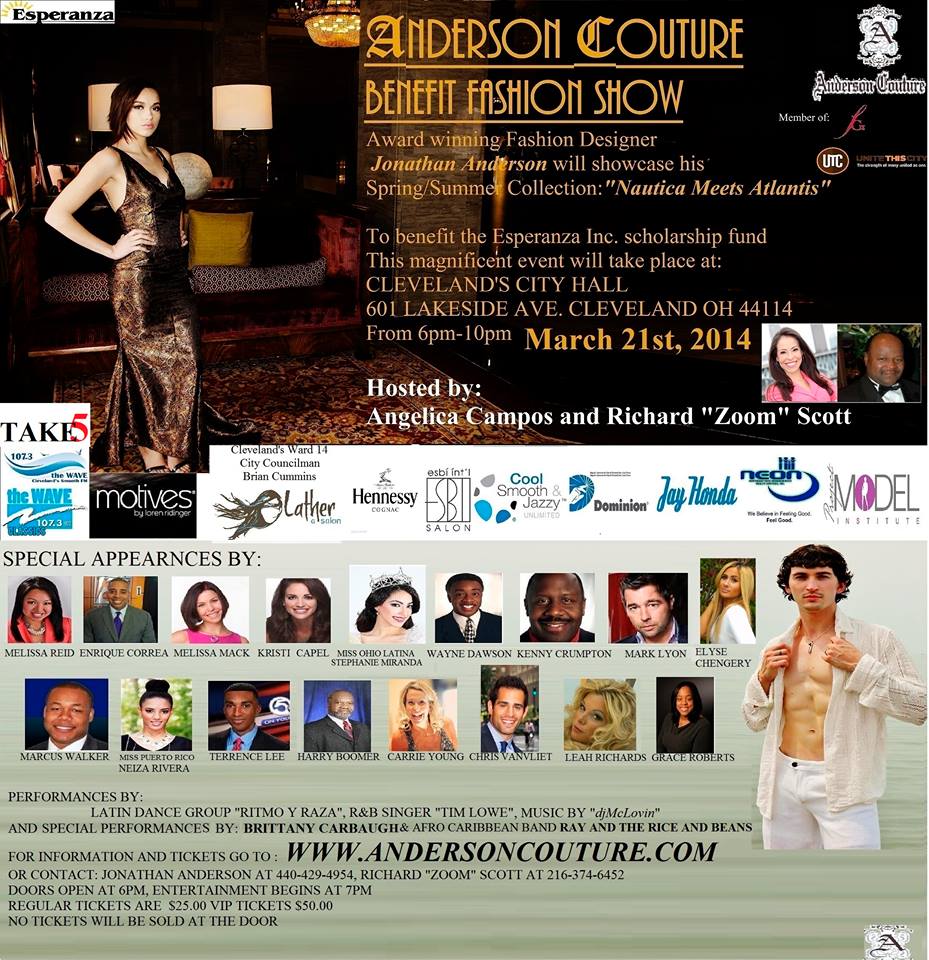 Contact: Jonathan Anderson (440) 429-4954 or Richard "Zoom" Scott (216) 374-6452
1065 Total Views
1 Views Today
Comments
comments
Powered by Facebook Comments