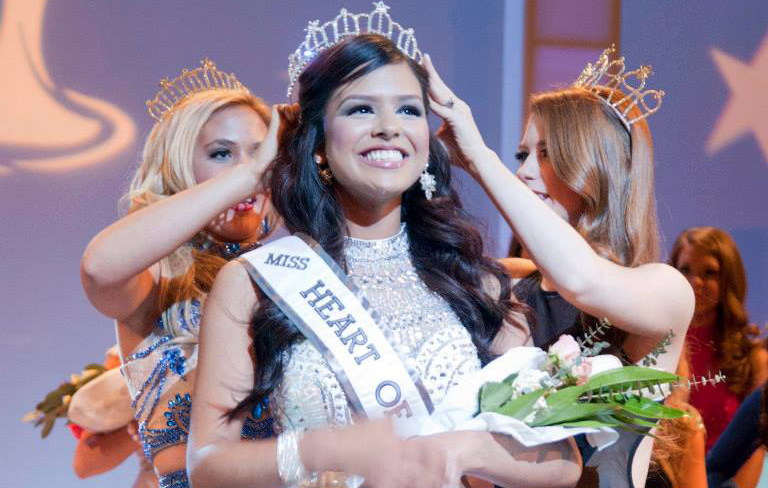 By Vocero Latino Staff
Francheska comenzó en certámenes cuando en el 2014 participo en Miss Puerto Rico Image colocándose como la primera finalista. Luego impulsada por su mentora Yasin Cuevas, el apoyo de Gerardo Encinas y el respaldo incondicional de su madre Olga Millin, participó en Miss Ohio Teen USA, colocándose como cuarta finalista. Francheska independientemente del resultado disfruta mucho del proceso.
Después de un tiempo de descanso, nuevamente bajo las recomendaciones de Yasin Cuevas decide participar en Miss Heart of Ohio. Franckeska cuenta con un respaldo muy grande de su familia la cual le hace más fácil el arduo trabajo. Fue por esto y por su gran dedicación que la noche del 29 de marzo esta hermosa trigueña gano su anhelada corona. Para orgullo latino fue coronada Miss Heart of Ohio Teen USA.
The Miss Heart of Ohio USA and Miss Heart of Ohio Teen USA son dos certámenes que traen una excelente plataforma rumbo a Miss Ohio USA. Las reinas disfrutan de enaltecer su titilo mientras son partes de diferentes eventos, oportunidades de crecimiento y trabajo comunitario.
Francheska lucio impecable en la noche final brillando como toda una reina. Aquí les compartimos algunas de las fotos.
Esto solo es el comienzo de muchas más experiencias para esta hermosa Latina.
Miss Heart of Ohio es una producción de STUDIO RM, LLC
Si deseas incursionar el en mundo de los certámenes de belleza y deseas dirección comunícate con Yasin Cuevas al 216-394-1001.
1695 Total Views
1 Views Today
Comments
comments
Powered by Facebook Comments