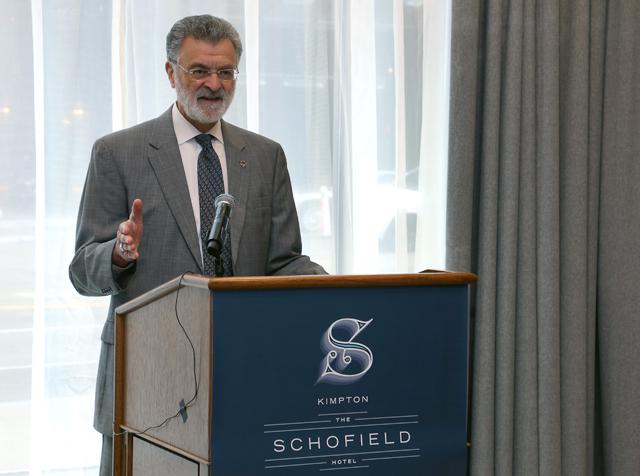 Mayor Frank G. Jackson gave welcoming remarks at the opening of the first new Kimpton Schofield Hotel, located in one of downtown Cleveland's landmark buildings at 2000 E. 9th Street.
Continuing to build a competitive city that thrives, the opening of the The Kimpton Schofield Hotel will help attract businesses and visitors to Cleveland, stimulates the City's economic growth, and fosters job creation. The development of the boutique hotel, which boasts a bright lobby, 122 cozy guestrooms and 52 high-end apartments, will allow Cleveland to better accommodate large groups and more tourists who wish to visit the city.
Kimpton Schofield Hotel has created new jobs in the hospitality industry and contributes to making Cleveland an attractive place where people choose to visit, live, work, play and do business. As part of the revitalization efforts of downtown Cleveland, this hotel will create a new demand for goods and services that will continue to help downtown Cleveland flourish as a destination place for all.
729 Total Views
2 Views Today
Comments
comments
Powered by Facebook Comments